Products - Materials - Freezer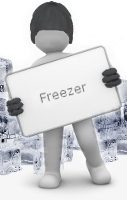 Our freezer quality vinyl is recognised as one of the best products in the industry for this type of application.
We can install our labels in a freezer environment both before it is activated and while it is fully operational. While installing in a turned off freezer is the easiest and safest method of installation, our ability to install labels in fully operational freezer allows our clients the peace of mind that they do not have to turn their freezer off.
The process of deactivating a freezer is both costly and unnecessary to the client, and in most cases is something which they are not prepared to do. This could however mean a reduction in operationalal efficiency if new or replacement labels are required. Robstock are proud to be one of the only companies able to offer the ability to install in active freezers.
Our installation team are fully trained to install in freezers operating at sub -40°C. Both with and without supporting equipment.